What To Do About Alice?: How Alice Roosevelt Broke the Rules, Charmed the World, and Drove Her Father Teddy Crazy! (Hardcover)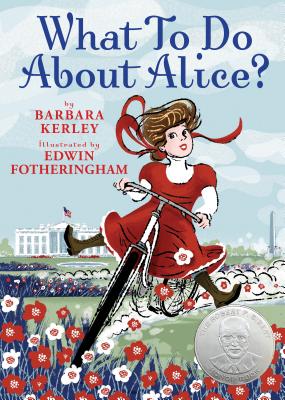 $17.99
Email or call for price
Description
---
If you like rebel girls, you will LOVE Alice Roosevelt!A Boston Globe-Horn Book Honor BookA Sibert Honor Book* "Superb... a gleeful celebration." -- Kirkus Reviews, starred reviewTheodore Roosevelt had a small problem. Her name was Alice. Alice Lee Roosevelt was hungry to go places, meet people, do things. Father called it "running riot." Alice called it "eating up the world." Whether she was entertaining important White House visitors with her pet snake or traveling the globe, Alice bucked convention and turned every new experience into an adventure!Brimming with affection and wit, this spirited biography gives readers a peek at family life inside the White House. Prose and pictures spring, gambol, and two-step across the pages to celebrate a maverick American heroine.
About the Author
---
Edwin Fotheringham's stylish, award-winning illustrations have graced the pages of The New Yorker, The Wall Street Journal, The New York Times, and many other publications. He has illustrated numerous highly acclaimed nonfiction picture books, such as Barbara Kerley's What to Do About Alice?, a Sibert Honor Book and a Boston Globe-Horn Book Award Honor Book; The Extraordinary Mark Twain (According to Susy), a New York Public Library Best Children's Book; Those Rebels, John & Tom, an NCTE Orbis Pictus Award Honor Book; and A Home for Mr. Emerson, a NAPPA Gold Award winner; as well as younger fiction picture books, such as Pam Muñoz Ryan's Tony Baloney and the eponymous beginning reader series, Jennifer Hamburg's Monkey and Duck Quack Up!, a spring 2015 Indie Favorite, and Andria Rosenbaum's Big Sister, Little Monster. Ed lives in Seattle, Washington. Visit him online at edfotheringham.com.
Barbara Kerley is a two-time Sibert Honoree and a Boston Globe-Horn Book Honoree whose award-winning biographies include What to Do About Alice?, The Extraordinary Mark Twain (According to Susy), Those Rebels, John & Tom, and A Home for Mr. Emerson, all illustrated by Edwin Fotheringham; Tigers & Tea with Toppy, illustrated by Matte Stephens; and The Dinosaurs of Waterhouse Hawkins and Walt Whitman: Words for America, illustrated by Brian Selznick. Kerley's books have all been praised for their lively prose, meticulous research, and artistic presentation style. She lives in Portland, Oregon. Visit her online at barbarakerley.com.
Praise For…
---
Distinctions and Praise for What to Do About Alice?:A Boston Globe-Horn Book Honor BookA Sibert Honor BookAn ALA Notable BookA Kirkus Reviews Best Book of the YearA Publishers Weekly Best Book of the Year"Reveals the essence of Alice in an upbeat account of her life... Alice as a young girl tumbling downstairs, galloping through parks, bike-riding and let loose in her father's library after refusing to attend private school... When the 17-year-old Alice moved into the White House after her father became president in 1901, she reveled in the high-voltage spotlight... "I give a good show," Alice proclaimed. That she did, as Kerley and Fotheringham demonstrate with verve." -- New York Times* "Theodore Roosevelt's irrepressible oldest child receives an appropriately vivacious appreciation in this superb picture book... Taking her thematic approach from Alice's own self-description, Kerley's precise text presents readers with a devilishly smart, strong-willed girl who was determined to live life on her own terms-and largely succeeded... The illustrator takes every opportunity to develop Alice's character further... It's a gleeful celebration of a fully, unapologetically led life." -- Kirkus Reviews, starred review* "It's hard to imagine a picture book biography that could better suit its subject than this high-energy volume serves young Alice Roosevelt... Debut illustrator Fotheringham creates the perfect mood from the start... Kids will embrace a heroine who teaches her younger stepsiblings to sled down the White House stairs, entertains dignitaries with her pet snake and captivates a nation with pranks and high jinks." -- Publishers Weekly, starred review* "Kerley's text has the same rambunctious spirit as its subject, grabbing readers from the first line... The large format gives Fotheringham, in his debut, plenty of room for spectacular art." -- Booklist, starred review* "Kerley's text gallops along with a vitality to match her subject's antics.... Fascinating." -- School Library Journal, starred review* "What to do about Alice? Enjoy!" -- The Horn Book, starred review

Starred Review, Kirkus, February 1, 2008
\u0022Theodore Roosevelt\u2019s irrepressible oldest child receives an appropriately vivacious appreciation in this superb picture book.... Kerley\u2019s precise text presents readers with a devilishly smart, strong-willed girl who was determined to live life on her own terms—and largely succeeded.\u0022


Starred Review, School Library Journal, March 2008
\u0022Kerley\u2019s text gallops along with a vitality to match her subject\u2019s antics, as the girl greets White House visitors accompanied by her pet snake, refuses to let leg braces cramp her style, dives fully clothed into a ship\u2019s swimming pool, and also earns her place in history as one of her father\u2019s trusted advisers. Fotheringham\u2019s digitally rendered, retro-style illustrations are a superb match for the text.\u0022