The Greatest Fury: The Battle of New Orleans and the Rebirth of America (Paperback)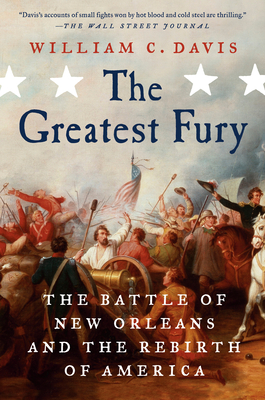 $20.00
Email or call for price
Description
---
"Davis's accounts of small fights won by hot blood and cold steel are thrilling."—The Wall Street Journal

From master historian William C. Davis, the definitive story of the Battle of New Orleans, the fight that decided the ultimate fate not only of the War of 1812 but the future course of the fledgling American republic

It was a battle that could not be won. Outnumbered farmers, merchants, backwoodsmen, smugglers, slaves, and Choctaw Indians, many of them unarmed, were up against the cream of the British army, professional soldiers who had defeated the great Napoleon and set Washington, D.C., ablaze. At stake was nothing less than the future of the vast American heartland, from the Gulf Coast to the Great Lakes, as the ragtag American forces fought to hold New Orleans, the gateway of the Mississippi River and an inland empire. 

Tipping the balance of power in the New World, this single battle irrevocably shifted the young republic's political and cultural center of gravity and kept the British from ever regaining dominance in North America. In this gripping, comprehensive study of the Battle of New Orleans, William C. Davis examines the key players and strategy of King George's Red Coats and Andrew Jackson's makeshift "army." A master historian, he expertly weaves together narratives of personal motivation and geopolitical implications that make this battle one of the most impactful ever fought on American soil.
About the Author
---
William C. Davis is a retired history professor who taught at Virginia Tech. An acclaimed expert on the Civil War, he has served on a number of advisory boards, including the Abraham Lincoln Bicentennial Commission; the Civil War Preservation Trust; the Museum of the Civil War Soldier in Petersburg, Virginia; the National Park Service; and the Lincoln Prize and Pulitzer Prize nominating juries.
Praise For…
---
"A finely researched volume that spotlights the good, bad, and ugly of a polyglot army stumbling to war . . . The strength of Mr. Davis's chronicle is its meticulous research and the way it frames the Battle of New Orleans in the context of a vibrant, evolving, occasionally vicious South. . . . The Greatest Fury is one of the most comprehensive looks at a fight that became a punctuation mark in the tale of Manifest Destiny."—The Wall Street Journal

"One of our most important battles in American history is also one of our most forgotten (and most mythologized), but master historian Davis gives us the definitive story of the fight that set the course of our fledgling republic."—The Coil Magazine

"Professor William C. Davis has a deserved reputation for exciting reads for general audiences that bring alive the past. . . .  In The Greatest Fury, Davis tells the story of the Battle of New Orleans that gave America respect as a nation, a major victory, a future president, a national holiday for many years, and almost our national anthem. . . . [He] seamlessly blends the immediate events and the background to tell history not well-known."—New York Journal of Books

"Davis delivers a highly descriptive and prodigiously researched book."—Kirkus Reviews

"William C. Davis reframes the historic significance of the Battle of New Orleans in a book that is both learned and accessible. Known for his wide-ranging research, Davis wields his energetic writing style to bring to life military and political history in a story sure to engage an appreciative audience."—Ronald C. White, New York Times bestselling author of American Ulysses: A Life of Ulysses S. Grant

"With prose so sharp the reader will hear the cannons' roar and feel the heat of the fire, William C. Davis has crafted an epic of American history. It's all here, from the clash of warships on Lake Borgne to Andrew Jackson's line of heroic fighters, to the Redcoats who took on an enemy inferior in numbers, weapons, and experience—and suffered defeat. The Greatest Fury is a rousing read."—Winston Groom, New York Times bestselling author of The Allies and Patriotic Fire

"In The Greatest Fury, William C. Davis has written a fascinating story about the too often forgotten Battle of New Orleans and its impact on the young United States. With his customary vivid prose, Davis packs the book chock-full of insights and revelations. Lovers of history will find this story a treat."—Jay Winik, New York Times bestselling author of 1944 and April 1865

"Anyone who thinks we fully understand Andrew Jackson's great victory at New Orleans should read The Greatest Fury. William C. Davis is a master at weaving broad research, which includes rich, new detail, into a lucid and engaging story."—Donald R. Hickey, author of The War of 1812: A Forgotten Conflict

"William C. Davis is a great storyteller, and Andrew Jackson's deliverance of a young nation at the Battle of New Orleans is one of the greatest stories in American history. With crisp detail and powerful imagery, Davis stitches together a treasure trove of contemporary sources to lend fresh insight and suspense to the battle."—Walter R. Borneman, national bestselling author of 1812: The War that Forged a Nation