Dead Men Do Tell Tales: The Strange and Fascinating Cases of a Forensic Anthropologist (Paperback)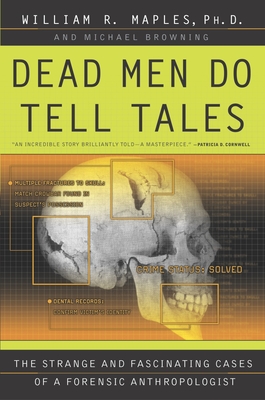 Description
---
From a skeleton, a skull, a mere fragment of burnt thighbone, prominent forensic anthropologist Dr. William Maples can deduce the age, gender, and ethnicity of a murder victim, the manner in which the person was dispatched, and, ultimately, the identity of the killer.

In Dead Men Do Tell Tales, Dr. Maples revisits his strangest, most interesting, and most horrific investigations, from the baffling cases of conquistador Francisco Pizarro and Vietnam MIAs to the mysterious deaths of President Zachary Taylor and the family of Czar Nicholas II.
About the Author
---
Until his death in February 1997, Dr. William R. Maples was distinguished service professor and curator-in-charge of the C. A. Pound Human Identification Laboratory at the Florida Museum of Natural History in Gainesville, Florida. He was president of the American Board of Forensic Anthropology and a fellow of the American Academy of Forensic Sciences. A scholarship fund has been established in his honor. After his death, his students painted a large tribute on a memorial wall at the University of Florida, saying simply: "We have stood on the shoulders of a giant."
 
Michael Browning was East Asia correspondent for Knight-Ridder Newspapers from 1983–1992. After that, he lived in Palm Beach Gardens, Florida, and worked for the Palm Beach Post. 
Praise For…
---
"When he's not shattering myths about maggots, Dr. Maples is delightfully unraveling true murder mysteries, ancient and modern.  He's not just another clever forensic detective -- he's a poet, a philosopher, and a sly commentator on the fractured human condition, pre-and post-mortem."
—Carl Hiaasen, author of Strip Tease and Native Tongue

"Whether Maples' subjects are famous or anonymous, it is how he tells their stories that makes this book so fascinating and—in its fashion—delightful."
—Jonathan Yardley, Washington Post Book World

"William R. Maples and Michael Browning could've written a dry clinical analysis of forensic anthropology; instead they tell tales better than the dead could for themselves."
—New York Times Book Review