Reward System: Stories (Hardcover)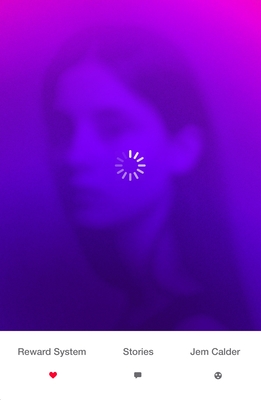 $27.00

Usually Ships in 3-5 Days
Description
---
"Reward System is an exhilarating and beautiful book by an extraordinarily gifted writer. Reading these stories, I found myself thinking newly and differently about contemporary life."
—Sally Rooney, author of Beautiful World, Where Are You

Julia has landed a fresh start—at a "pan-European" restaurant.
"Imagine that," says her mother.
"I'm imagining."

Nick is flirting with sobriety and nobody else. Did you know adults his age are now more likely to live with their parents than with a romantic partner?

Life should have started to take shape by now—but instead we're trying on new versions of ourselves, swiping left and right, searching for a convincing answer to that question: "What do you do?"

Jem Calder's Reward System is a set of ultra-contemporary and electrifyingly fresh fictions about work, relationships, and the strange loop of technology and the self. They are about a generation on the cusp: the story of two people enmeshed in Zooms and lockdowns, loneliness and love, devices and desires. Hyperaware but also deeply confused about who they are, Julia and Nick reveal the way we live now in a startling new light.
About the Author
---
Jem Calder was born in Cambridge, and lives and works in London. His first two completed stories were published in The Stinging Fly and Granta.
Praise For…
---
"Brilliant, compelling, and defiantly authentic . . . the young British debut author masters a kind of maximal minimalism, piling on details and allusions while stripping away illusions . . . [Calder] savvily marshals buzzy facts and newsy concepts in service of an atmosphere rich with the irony (and pollutants) of modern living." —Nathan Deuel, The Los Angeles Times

"The infusion of technical jargon throughout Mr. Calder's balanced prose has an eerie effect on the stories, as though the algorithm had begun colonizing the writing as well . . . Generational zombification, in Mr. Calder's penetrating depiction, has been a largely smooth and painless process, and there is no discontent brought about by the smartphone that the smartphone can't also distract us from thinking about." —Sam Sacks, The Wall Street Journal

"Jem Calder's excellent debut . . . can be funny and wrenching, often on the same page." —Michael Schaub, NPR

"Calder is a superb writer, by turns funny, graceful, acidly cynical, lyrical—and always verbally dexterous and inventive. He can make the boredom of office life fascinating . . . he can make a desolate house party enlivening . . . and his descriptions of loneliness and dissatisfaction, as in virtually all these stories, leave the reader feeling understood—or, as his characters would say, seen . . . [Calder] write[s] simply and beautifully, with a keen eye for the natural world and human behaviour." —Matt Rowland Hill, The Guardian

"Calder's stories are impressively detailed in their fine-grain attention to the banal stuff-of-life and his characters' inner agonies . . . Calder proves a tender chronicler of the digital age, tunnelling into what it feels like, moment to moment, to navigate dating apps and YouTube viewing histories and neglected WhatsApp messages." —The Observer

"Mordant, intellectually agile stories of young love, life and work . . . Calder has adapted the literary modes of previous generations to present circumstances. Comparisons to David Foster Wallce are for emergency use only, but here I must grasp the little hammer and break the glass." —Nat Segnit, The Times Literary Supplement

"[Calder] has a pleasing voice that is wholly his own . . . He's not afraid to be funny or to err toward satire . . . This makes Calder's lyrical moments more intimate and satisfying." —Mara Sandroff, NewCity Lit

"Calder debuts with a sharp collection . . . the choice to stretch out the narrative across several stories . . . leaves room for Calder's insightful observations on the nature of romance and friendship in the age of right swipes and perfectly curated Instagram grids. There's plenty to dig into." —Publishers Weekly

"Reward System is an exhilarating and beautiful book by an extraordinarily gifted writer. Reading these stories, I found myself thinking newly and differently about contemporary life." —Sally Rooney, author of Beautiful World, Where Are You

"Jem Calder is my favorite new writer, or my new favorite writer, I can't decide which, and his book Reward System is the best debut by a British fiction writer in years. If you've been waiting for someone to close the gap on social distancing, to capture the furtive problems of social media, to make you laugh at your own alienation, to wrap your mind around the narcissism of small differences, then Calder is your new best friend and his debut collection is the must-read book of the year." —Andrew O'Hagan, author of Mayflies

"The stories in Reward System are intelligent, cool and sharp. Jem Calder is a real find." —Nicole Flattery, author of Show Them A Good Time