Seabiscuit: An American Legend (Mass Market Paperback)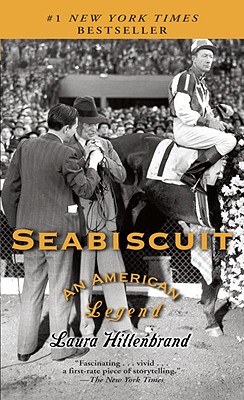 $7.99
Email or call for price
Description
---
Seabiscuit was one of the most electrifying and popular attractions in sports history and the single biggest newsmaker in the world in 1938, receiving more coverage than FDR, Hitler, or Mussolini. But his success was a surprise to the racing establishment, which had written off the crooked-legged racehorse with the sad tail. Three men changed Seabiscuit's fortunes:

Charles Howard was a onetime bicycle repairman who introduced the automobile to the western United States and became an overnight millionaire. When he needed a trainer for his new racehorses, he hired Tom Smith, a mysterious mustang breaker from the Colorado plains. Smith urged Howard to buy Seabiscuit for a bargain-basement price, then hired as his jockey Red Pollard, a failed boxer who was blind in one eye, half-crippled, and prone to quoting passages from Ralph Waldo Emerson. Over four years, these unlikely partners survived a phenomenal run of bad fortune, conspiracy, and severe injury to transform Seabiscuit from a neurotic, pathologically indolent also-ran into an American sports icon.

Author Laura Hillenbrand brilliantly re-creates a universal underdog story, one that proves life is a horse race.
About the Author
---
Laura Hillenbrand has been writing about Thoroughbred racing since 1988 and has been a contributing writer/editor for "Equus" magazine since 1989. Her work has also appeared in "American Heritage, ABC Sports Online, The Blood-Horse, Thoroughbred Times, The Backstretch, Turf "and "Sport Digest" and many other publications. Her 1998 "American Heritage" article on Seabiscuit won the Eclipse Award for Magazine Writing, the highest award for Thoroughbred racing. She is currently serving as a consultant on a Universal Studios movie based on this book. Born in Fairfax, Virginia, Laura lives in Washington, D.C. "From the Hardcover edition."
Praise For…
---
"Fascinating . . . Vivid . . . A first-rate piece of storytelling, leaving us not only with a vivid portrait of a horse but a fascinating slice of American history as well."
–The New York Times

"Engrossing . . . Fast-moving . . . More than just a horse's tale, because the humans who owned, trained, and rode Seabiscuit are equally fascinating. . . . [Hillenbrand] shows an extraordinary talent for describing a horse race so vividly that the reader feels like the rider."
–Sports Illustrated

"REMARKABLE . . . MEMORABLE . . . JUST AS COMPELLING TODAY AS IT WAS IN 1938."
–The Washington Post