Workbook and Competency Evaluation Review for Mosby's Textbook for Nursing Assistants (Paperback)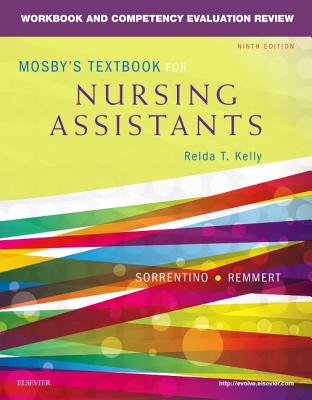 Description
---
Get the most out of your nurse assisting textbook, and review for your certification exam Corresponding to the chapters in Sorrentino and Remmert's Mosby's Textbook for Nursing Assistants, 9th Edition, this workbook reinforces your understanding with numerous exercises and review questions. Checklists help you study skills - with a checklist for each of the 100+ procedures in the text. The Competency Evaluation Review section helps you prepare for the CNA exam with a review of content, a skills evaluation review, and two practice exams. Answers are included for all review questions and practice exams
Comprehensive review
corresponds chapter-by-chapter to the textbook.
Competency Evaluation Review section
includes a content review and review questions for all key topics, a skills evaluation review, and two practice exams that help to prepare you for the written certification exam.
A wide variety of exercises
enhances learning and keeps you interested in the material.
Skills checklists
help you review and practice the procedures required for certification.
Independent learning activities
in every chapter allow additional review and practice.
Optional learning exercises
are provided for longer programs and/or higher-level students.
NEW
review chapters
are added to correspond to the five new chapters in the textbook.