My Head Has a Bellyache: And More Nonsense for Mischievous Kids and Immature Grown-Ups (Mischievous Nonsense) (Hardcover)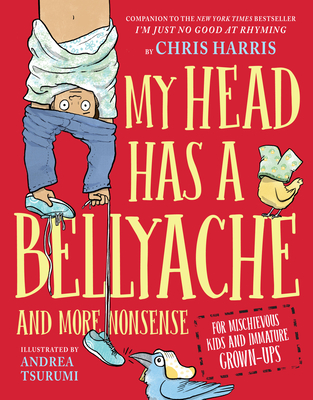 $19.99

Should Be On Our Shelves Now
Other Books in Series
This is book number 2 in the Mischievous Nonsense series.
Description
---
This hilarious follow-up to the New York Times bestselling poetry book I'm Just No Good at Rhyming is full of surprising twists of wit and wordplay that will have readers rolling on the floor laughing!

"Highly recommended, it gets 5 stars and 8 moons and a chef's kiss and a tip of the hat and a jump in the lake from me."—Bob Odenkirk, award-winning actor, writer, and comedian

I'm Just No Good at Rhyming is this century's most acclaimed comedic poetry collection so far, described as "a worthy heir to Silverstein, Seuss, and even Ogden Nash" (PublishersWeekly), "wildly imaginative...inspired and inspiring" (Kirkus), and as "everything a book for kids should be" (B.J. Novak). Now, Chris Harris delivers all that and more with dazzling new heights of creativity, kooky conundrums, witty wordsmithing, and of course, wacky laugh-out-loud fun!

There's a whole new cast of characters to meet, from the Nail-Clipping Fairy (who delivers teeth at night), to Orloc the Destroyer (who can be defeated only by his mommy), to the Elderly Caveman (who complains about the younger generation obsessed with playing with fire). There are more mind-bending verbal and visual riddles, plus there's plenty of hilarious hijinks hiding around every corner, whether it's a buffalo that escapes one poem and roams through others or a meteor threatening to land on the book and obliterate everything. There's even a mini book-within-a-book! In between it all, cartoonist Andrea Tsurumi's diverse range of exuberant people, creatures, and anthropomorphic objects ripple through the pages with playful energy.

If your head has a bellyache as you read this book, it will only be because you're laughing WAY. TOO. HARD!
About the Author
---
Chris Harris is the New York Times bestselling author of I'm Just No Good at Rhyming: And Other Nonsense for Mischievous Kids and Immature Grown-Ups, illustrated by Lane Smith; The Alphabet's Alphabet, illustrated by Dan Santat; and If You Laugh, I'm Starting This Book Over, illustrated by Serge Bloch. He currently serves as showrunner and executive producer for the new Frasier. Previous TV writing credits include How I Met Your Mother, Acapulco, and The Late Show with David Letterman. His pieces have appeared in the New Yorker, Esquire, the New York Times, the Wall Street Journal, and on NPR. He lives in Los Angeles.

Andrea Tsurumi (they/them) is the author and illustrator of Accident! and Crab Cake, as well as numerous comics. They also illustrated the Kondo & Kezumi series by David Goodner, Not Your Nest by Gideon Sterer, and Girls Who Code by Reshma Saujani. They were born and raised in New York, where they got an MFA from the School of Visual Arts, and they now live in Philadelphia with their spouse and dog. When they'e not inventing croissant-based animals, they like reading about ordinary and ridiculous history.
Praise For…
---
* "Will keep young audiences reading all the way to the (rhymed!) glossary and into the goofy title and subject indexes... Sidesplitting fun throughout for one or a crowd."—
Kirkus Reviews
* "Come for the funny poems; stay because there's so much to pore over that you can't put this collection down."—
Horn Book
* "[Chris Harris's] jaunty rhymes will continue to delight the next generation of Shel Silverstein and Jon Scieszka fans."—
Booklist
"This expansive, anarchic poetry collection boasts excitement, surprises, words of wisdom, absurdist digressions, and laughs galore.... An appealingly ridiculous book, recommended for poetry and humor fans."—
School Library Journal
"The funniest, smartest, wildest, and most wonderfully illustrated and designed book I have read in about...forever."—
Jon Scieszka, bestselling children's book author and first National Ambassador of Young People's Literature
"Hilarious! Witty! Fun! Chris Harris's rhyming nonsense made me laugh so hard, now I have a bellyache!"—
Chris Grabenstein, #1 New York Times bestselling author of the Lemoncello series
"Chris Harris has done it again, and he's gotten so much better at being 'no good at rhyming.'  This book is a feast of rhyming, word-play, and cleverness—jam-packed, overloaded, even! If you like seeing words goofing around and enjoying themselves, then this is the book for your eyeballs to gaze upon. Highly recommended, it gets 5 stars and 8 moons and a chef's kiss and a tip of the hat and a jump in the lake from me."—
Bob Odenkirk
Praise for I'm Just No Good at Rhyming: And Other Nonsense for Mischievous Kids and Immature Grown-Ups:

A New York Times Bestseller
A New York Times Editors' Choice
An NPR Best Book of 2017
An Amazon Best Book of 2017
A Publishers Weekly Best Book of 2017
A News & Observer Wilde Award Book of 2017
A Booklist Editors' Choice: Books for Youth 2017 Selection
A Kirkus Best Middle-Grade Books of 2017 Selection
School Library Journal's Best Books of 2017
Chicago Public Library Best of the Best Books of 2017
An Iowa Public Radio Best Children's Books to Give in 2017
100 Scope Notes Top 20 Books of 2017
School Library Journal's Fuse #8 Blog - 2017 Poetry Books for Kids
A Nerdies 2017 Selection
NCTE's 2018 Notable Poetry Books
ALA-ALSC Notable Books for Children List 2018
A Parents' Choice Award Gold Winner for Audio Books 2018

* "A frolicking romp through the zany world of nonsense verse.... Visual, aural, and downright guffaw-inspiring puns and riddles abound in this wildly imaginative and cleverly illustrated debut collection. The inspired and inspiring sense of play knows no bounds." —Kirkus Reviews, starred review

* "Those who claim to hate poetry will enjoy this riotous compilation.... A surefire winner for reading aloud or for snickering with under the covers." —School Library Journal, starred review

* "Hits a poetry trifecta: high energy, rhymes that can rival Cole Porter's, and a torrent of ideas...a worthy heir to Silverstein, Seuss, and even Ogden Nash." —Publishers Weekly, starred review

* "A magnificently wacky romp through verse.... This moving, madcap anthem to language is sure to stand the test of time." —Booklist, starred review

* "There's not a dud in the bunch." —The Horn Book, starred review

* "Comedy gold.... This is one collection that rewards repeat visits." —The Horn Book, starred review

"This Hollywood writer and award-winning illustrator might just make all of us—the kids and the grown-ups—smile again." —The New York Times

"It's a veritable sundae of delights-layers of puns, word games, visual jokes—that I honestly would give to any kid ages short to tall." —NPR's Book Concierge

"This inspired collection of nonsense verse from the executive producer of How I Met Your Mother showcases a rare gift for wacky wordplay." —People

"I'm just no good at describing how wonderful this book is. Smart and sweet, wild and wicked, brilliantly funny—it's everything a book for kids should be." —BJ Novak, actor and bestselling author of The Book With No Pictures

"I am a grown man and this book made me laugh out loud. When I was a kid, this was the kind of book that made me want to make comedy." —Jason Segel, actor, screenwriter, producer, and author of Nightmares!

"This book, with its loony poems and seriously weird illustrations, is ridiculous, nonsensical, peculiar, outrageous, possibly deranged—and utterly, totally, absolutely delicious. Read it! Immediately!" —Judith Viorst, bestselling author of Alexander and the Terrible, Horrible, No Good, Very Bad Day

"Chris Harris is a poet and everyone should know it! Love this book!" —Andrea Beaty, bestselling author of Rosie Revere, Engineer