Blood of Troy (Daughter of Sparta #2) (Hardcover)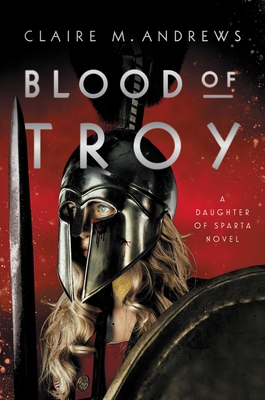 $18.99

Usually Ships in 3-5 Days
Other Books in Series
This is book number 2 in the Daughter of Sparta series.
Description
---
The sequel to Daughter of Sparta thrusts warrior Daphne and her love interest, the Olympian god Apollo, into the middle of the Trojan War in this epic YA fantasy reimagining of Greek mythology.
 
A year after saving the powers of Olympus by defeating Nyx, the Goddess of Darkness, Daphne is haunted by still-looming threats, her complicated feelings for the god Apollo, and the promise she made to the Olympian gods that she would help them again when they called upon her. When their command finally comes, it is deceptively simple: secure herself a spot as one of Queen Helen's guards.
 
A war is coming, and all of Sparta must be prepared.
 
In the midst of a treaty summit among the monarchs of Greece, Daphne and Helen uncover a plot of betrayal—and soon, a battle begins that leads to all-out war. As the kingdoms of Greece clash on the shores of Troy and the gods choose sides, Daphne must use her wits, her training, and her precarious relationship with Apollo to find a way to keep her queen safe, stop the war, and uncover the true reason the gods led her to Troy. But the gods are keeping more than one secret, and Daphne will be forced to decide how far she is willing to go to save those she loves—and whose side she's on in a war that is prophesized to be the downfall of her people.

Claire M. Andrews continues to turn Greek mythology on its head in this thrilling sequel that centers a female protagonist in a land ruled by powerful men and gods alike, filled with exhilarating action, unforgettable romance, and a destiny that could destroy the world.

Preorder the jaw-dropping conclusion, Storm of Olympus, now! 
About the Author
---
Claire M. Andrews was raised in both Alaska and Scotland, but currently lives in Vermont; when not writing, she can usually be found outside swimming, skiing or hiking across the state's famous green mountains. She is the author of Daughter of Sparta and Blood of Troy, and can be found on Instagram and Twitter at @cmandrewslit.
Praise For…
---
* "Free of vanity, indifferent to the male gaze, and portrayed without objectification, Daphne's the compelling hero of an epic closer in tone to its Homeric source than to many pop-culture iterations... A vivid, riveting sequel."—Kirkus, starred review

"[A] solid follow-up to Daughter of Sparta… The gods are well characterized, and Daphne remains strong and staunch."—Booklist

"Spectacular storytelling! Blood of Troy is an action-packed sequel that brings a new twist to a classic tale. Daphne, Helen, and Apollo provide surprises at every turn. Don't miss this series!"—Carly Heath, author of The Reckless Kind

"Andrews's writing and worldbuilding run closer to the Homeric epic than other retellings, while...giving women more agency. This myth-infused adventure grounded in historical details is recommended for all YA collections."—SLJ

"It is hard to imagine a more compulsively readable book than Daughter of Sparta... but Andrews has outdone herself with Blood of Troy. Daphne is a stubborn, ambitious gem in a myth-spun tale full of glittering royalty, shining gods, and secrets that threaten to topple them all. The burning question I am left with? How will I—I mean readers—manage to wait for the trilogy's final installment?"—Lillie Lainoff, author of One For All

"This one had me at the edge of my seat. Absolutely riveting. Andrews weaves mythology, political intrigue, and aching romance with a masterful hand. I need the third book. Right. Now."—Rebecca Rode, author of Tides of Mutiny

Praise for Daughter of Sparta:

"A fresh, original spin on classic Greek mythology. Andrews is a debut to watch; Daughter of Sparta is an action-packed adventure with phenomenal writing and empowering female characters that are sure to pack a punch. I was absolutely enamored by this book!"—Adalyn Grace, New York Times bestselling author of the All the Stars and Teeth series

"Daughter of Sparta deftly weaves classic Greek myth into a spellbinding adventure led by a fierce and complex heroine. An utterly transportive and breathtaking debut."—Katy Rose Pool, author of There Will Come a Darkness

"Claire Andrews' Daughter of Sparta is an epic story about female empowerment, packed with romance, adventure and mystery. This fast-paced and well-researched novel was truly difficult to put down!"—June Hur, author of The Forest of Stolen Girls

"Nonstop action, drama, and an unforgettable female warrior will keep readers turning pages.... Awe-inspiring."—SLJ

"A strong female-led adventure story with an underlying romance."—SLC

"This twist on the narrative is great for readers aging out of Rick Riordan's books."—Booklist

"This book has all the right elements to sweep you off your feet.... A fresh and exciting reimagining of the classic Greek myth."—Nerd Daily

"Every reader who's groaned at the passivity of helpless girls ensnared by gods behaving badly will root for her [Daphne] to succeed.... Andrews brings Daphne's world convincingly to life, earning extra credit for breathless scenes of mortal combat."—Kirkus