The Horse God Built: The Untold Story of Secretariat, the World's Greatest Racehorse (Paperback)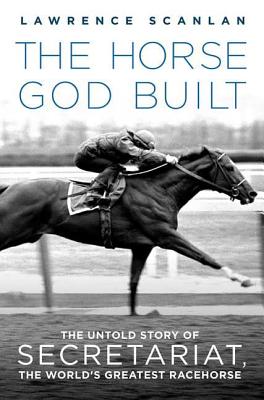 $20.00
Email or call for price
Description
---
The Horse God Built tells the amazing and heartwarming story of a Secretariat and the man who knew him best.

Most of us know the legend of Secretariat, the tall, handsome chestnut racehorse whose string of honors runs long and rich: the only two-year-old ever to win Horse of the Year, in 1972; winner in 1973 of the Triple Crown, his times in all three races still unsurpassed; featured on the cover of Time, Newsweek, and Sports Illustrated; the only horse listed on ESPN's top fifty athletes of the twentieth century (ahead of Mickey Mantle). His final race at Toronto's Woodbine Racetrack is a touchstone memory for horse lovers everywhere. Yet while Secretariat will be remembered forever, one man, Eddie "Shorty" Sweat, who was pivotal to the great horse's success, has been all but forgotten--until now.

In The Horse God Built, bestselling equestrian writer Lawrence Scanlan has written a tribute to an exceptional man that is also a backroads journey to a corner of the racing world rarely visited. As a young black man growing up in South Carolina, Eddie Sweat struggled at several occupations before settling on the job he was born for--groom to North America's finest racehorses. As Secretariat's groom, loyal friend, and protector, Eddie understood the horse far better than anyone else. A wildly generous man who could read a horse with his eyes, he shared in little of the financial success or glamour of Secretariat's wins on the track, but won the heart of Big Red with his soft words and relentless devotion.

In Scanlan's rich narrative, we get a groom's-eye view of the racing world and the vantage of a man who spent every possible moment with the horse he loved, yet who often basked in the horse's glory from the sidelines. More than anything else, The Horse God Built is a moving portrait of the powerful bond between human and horse.
About the Author
---
Lawrence Scanlan is the author of several bestselling books, including Wild About Horses and Little Horse of Iron. He is the coauthor, with Ian Millar, of Riding High, and has written books for younger readers: Big Ben, Horses Forever, and The Horse's Shadow. Scanlan worked closely with Monty Roberts on his acclaimed book The Man Who Listens to Horses. Winner of three Canadian National Magazine Awards for his journalism, Scanlan lives in Kingston, Ontario.
Praise For…
---
"Scanlan's scope is encyclopedic…"--Publishers Weekly

"The author's tribute is heartfelt..."--Kirkus Reviews

"...detailed in all its equine awesomeness."--Maxim

"...will satisfy those who can't get enough of Secretariat."--The New York Times

"…an informative read that hardboots and novices alike can enjoy."--The Lexington Herald Leader (Kentucky)

"Eddie Sweat's story represents the last great untold chapter in the Secretariat saga. Larry Scanlan has honored both groom and horse by giving it to us at last. --John Jeremiah Sullivan, author of Blood Horses: Notes of a Sportswriter's Son

"This well-researched book is a must for readers who are fans of the horse, but if you just want a good read, you're going to love this animal/human interest story."--Monty Roberts, author of The Man Who Listens to Horses