The Normal Bar: The Surprising Secrets of Happy Couples and What They Reveal About Creating a New Normal in Your Relationship (Paperback)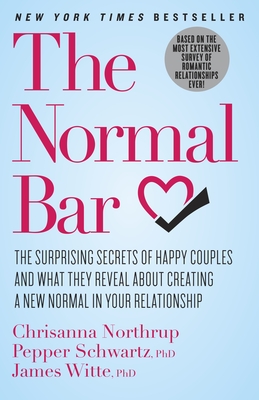 $17.00
Email or call for price
Description
---
Based on data obtained from nearly 100,000 respondents, here is the ultimate resource for anyone who wants to learn the relationship-tested ways couples can achieve satisfaction and contentment in areas such as communication, sex, affection, and financial cooperation.

What constitutes "normal" behavior among happy couples?  What steps you should take if that "normal" is one you want to strive for?  To help answer those questions, wellness entrepreneur Chrisanna Northrup teamed with two of America's top sociologists, Yale Ph.D.  Pepper Schwartz and Harvard Ph.D. James Witte, to design a unique interactive survey that would draw feedback from around the world. 

What has resulted is the clearest picture yet of how well couples are communicating, romancing each other, satisfying each other in the bedroom, sharing financial responsibilities, and staying faithful – or not.  Since the Normal Bar survey methodology sorts for age and gender, racial and geographic differences and sexual preferences, the authors are able to reveal , for example, what happens to passion as we grow older, which gender wants what when it comes to sex, the factors that spur marital combat, how kids figure in, how being gay or bisexual turns out to be both different and the same, and –regardless of background -- the tiny habits that drive partners absolutely batty.

The book is dense with revelations, from the unexpected popularity of certain sexual positions, to the average number of times happy – and unhappy -- couples kiss, to the prevalence of lying, to the surprising loyalty most men and women feel for their partner (even when in a deteriorating relationship), to the vivid and idiosyncratic ways individuals of different ages, genders and nationalities describe their "ideal romantic evening."

Much more than a peek behind the relationship curtain, The Normal Bar offers readers an array of prescriptive tools that will help them establish a "new normal." Mindful of what keeps couples stuck in ruts, the book's authors suggest practical and life-changing ways to break cycles of disappointment and frustration.
About the Author
---
CHRISANNA NORTHRUP created The Normal Bar project and is the CEO of YOU Got Challenged! Inc., a customized online program that motivates people to change their normal to a healthier one.  PEPPER SCHWARTZ received her Ph.D. in sociology from Yale University, is a Professor of Sociology at the University of Washington, and is the author of 16 books.  JAMES WITTE, a Harvard Ph.D., is the Professor of Sociology and Director of the Center for Social Science Research at George Mason University. 
Praise For…
---
"Masters and Johnson, it's time to move over.  The Normal Bar mixes together sex, savvy insights and science, making you laugh while you learn.  Bet you haven't done that in a while."
--Nancy L. Snyderman, MD, NBC News Chief Medical Editor
 
"Money? Sex? Deep dark secrets? If you wonder how your relationship compares with the rest of the world, The Normal Bar offers you a comprehensive heads up -- most important, it suggests that growing healthier and happier may not be mission impossible."
--Gina Ogden, PhD, LMFT, author of The Return of Desire, The Heart & Soul of Sex, and Women Who Love Sex
 
"The Normal Bar is an innovative, easy to read book filled with novel findings about relationships and helpful suggestions on making relationships better.   I will use the important findings from The Normal Bar in my classes, in my papers and in my clinical work."
--Howard J. Markman, Ph.D., author of Fighting for Your Marriage
 
 "The Normal Bar is more than a collection of surprising information--it's one of the most insightful guides to building happier, healthier relationships that I've ever read. I was encouraged and comforted by the authors' findings. Simply terrific."
– Marci Shimoff, New York Times bestselling author of Happy for No Reason and coauthor of Chicken Soup for the Woman's Soul
 
"Facts trump opinions every time, and there are an amazing number of surprising facts in this book.  Thanks to the authors' survey—which takes a quantum leap beyond any relationship survey ever undertaken—The Normal Bar marks a turning point in relationship advice books.  In my 30 years as a professional student of romantic relationships, this is the only book that's actually taught me something new."
--Greg Godek, author of the national bestseller 1001 Ways to be Romantic
 
"This outstanding book draws on thousands of surveys to find out what makes couples happy.  Besides being entertaining and edifying, The Normal Bar can actually help most couples improve their relationships."
--Barbara Reskin, Past President of the American Sociological Association
 
"A fascinating international compendium on women, men, sex and love that -- thank goodness -- busts some entrenched myths about men. In the book you'll learn whether simple things such as reading to your partner can build deep intimacy, and whether date nights, compliments and laughter can truly keep love alive. You'll also learn about 'pet names' and public displays of affection, and whether they spark romance. This book is scholarly, humorous and wise; above all, it gives superb advice.  Indeed, after reading The Normal Bar, you'll have no excuse if your partnership isn't a dream come true."
--Helen Fisher, Professor of Anthropology at Rutgers University and author of Why We Love: The Nature and Chemistry of Romantic Love
 
"I'm obsessed with this page-turner of a book! After nineteen years of marriage, I faced divorce and entering the dating world with a whole lot of questions about what was and was not normal. Not only did this book answer everything I'd ever wondered about relationships and what people really want, but it restored my faith in the essential sweetness of humankind. Hot damn!"
--Linda Sivertsen, award-winning author of Generation Green and co-author of the bestselling Your Big Beautiful Book Plan