Big World, Small Planet: Abundance within Planetary Boundaries (Hardcover)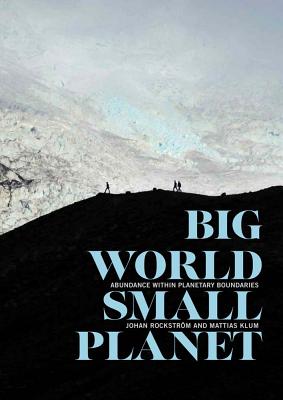 $27.50
Email or call for price
Description
---
A profoundly original vision of an attainable future that ensures human prosperity by safeguarding our threatened planet

"If you have time to read one book on this subject, I highly recommend the new Big World, Small Planet, by Johan Rockstrom, director of the Stockholm Resilience Center, and Mattias Klum, whose stunning photographs of ecosystem disruptions reinforce the urgency of the moment."—Thomas L. Friedman, New York Times

Big World, Small Planet probes the urgent predicament of our times: how is it possible to create a positive future for both humanity and Earth? We have entered the Anthropocene—the era of massive human impacts on the planet—and the actions of over seven billion residents threaten to destabilize Earth's natural systems, with cascading consequences for human societies. In this extraordinary book, the authors combine the latest science with compelling storytelling and amazing photography to create a new narrative for humanity's future. Johan Rockström and Mattias Klum reject the notion that economic growth and human prosperity can only be achieved at the expense of the environment. They contend that we have unprecedented opportunities to navigate a "good Anthropocene." By embracing a deep mind-shift, humanity can reconnect to Earth, discover universal values, and take on the essential role of planetary steward. With eloquence and profound optimism, Rockström and Klum envision a future of abundance within planetary boundaries—a revolutionary future that is at once necessary, possible, and sustainable for coming generations.
About the Author
---
Johan Rockström, an internationally recognized scientist and leader on global sustainability, is founding director of the Stockholm Resilience Centre and professor of water systems and global sustainability at Stockholm University. He is the author of several books and more than 100 research publications. He lives in Stockholm, Sweden. Mattias Klum is a renowned National Geographic photographer and filmmaker who has focused on endangered species, ecosystems, and ethnic minorities around the world. In 2008 he was named a Young Global Leader of the World Economic Forum. He is an Ambassador for IUCN and WWF, as well as a Fellow at National Geographic Society. Stockholm University awarded him an honorary doctorate in 2013. Big World, Small Planet is Klum's thirteenth book.
Praise For…
---
"If you have time to read one book on this subject, I highly recommend the new Big World, Small Planet, by Johan Rockstrom, director of the Stockholm Resilience Center, and Mattias Klum, whose stunning photographs of ecosystem disruptions reinforce the urgency of the moment."—Thomas L. Friedman, New York Times

"Big World, Small Planet offers a carefully laid-out argument about the ecological limits of our planet—and the challenge these limits pose to our patterns of life and economic growth. It clearly and compellingly explains the concept of planetary boundaries—a defining book for this decade."—Daniel C. Esty, Yale University, co-author of Green to Gold: How Smart Companies Use Environmental Strategy to Innovate, Create Value, and Build Competitive Advantage

"Big World, Small Planet offers a cornerstone for building a sustainable future for human civilization and our home, Planet Earth. Accessibly written and beautifully illustrated with stunning photographs, this book creatively and optimistically resonates with ideas and solutions."—Thomas E. Lovejoy, University Professor of Environmental Science and Policy, George Mason University and National Geographic Conservation Fellow

"Through compelling science and inspiring photography Big World, Small Planet achieves the mind-shift space travelers experience when looking at Earth from space: we, humanity, need to become responsible stewards of our small planet. This book is all you need for heart and brain to be convinced of the virtue of a transformation to a world that thrives within planetary boundaries."—Richard Branson, Virgin Group

"Our future hangs in the balance. We are inflicting grave damage on Planet Earth, and if we carry on with 'business as usual' we may reach the point of no return—when ecosystems collapse and more and more species become extinct. There is hope if only we can bridge the gap between the clever human brain and the compassionate human heart and act now. Johan Rockström and Mattias Klum lead the way with scientific clarity, powerful storytelling, and inspiring and award-winning photography."—Dr. Jane Goodall