Social Security in the 21st Century (Soas Studies on South Asia) (Paperback)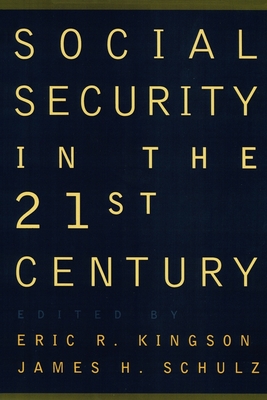 $104.99

Usually Ships in 3-5 Days
Description
---
Social security has proven to be one of the most successful programs in the United States. No other program has done more to transform old age or to protect family incomes against economic risks arising from the disability or death of a working family member. Polls consistently show strong
support for Social Security, but these same polls also show that the public, especially the young, is skeptical about whether Social Security will be able to meet its obligations. The program's harshest opponents call it a Ponzi scheme. Arguing that the young will be left holding the bag, they
call for a shift towards greater personal savings or means-testing. Experts agree that the aging of the baby boom, longer life expectancies, and a changing economy will impose new challenges. But seeing no impending disaster, they point to reforms that leave intact basic Social Security commitments
and structure. Not surprisingly, the public is confused and has many unanswered questions.
Social Security in the 21st Century offers an introduction to the basic economic, demographic, and political aspects of social security, and addresses the questions most often asked regarding this subject. Featuring nationally recognized experts, the book presents clear, authoritative, and balanced
discussions of contemporary Social Security issues, offering the historical background, concepts, statistics, and options necessary to make informed judgments about the program. These issues include the program's financial viability, its effects on the economy and the federal deficit, its consonance
with American values, the adequacy of benefits for today's and tomorrow's old, its fairness to women and the young, disability reform and generational equity. It explains both the social insurance principles and political history related to the development of Social Security in the United States.
The book avoids using technical jargon, making it ideal for a wide ranging audience including policymakers, teachers, journalists, students, and the general public. Special attention is given to the future and how Social Security can be changed to respond to the needs of generations to come.