Safe Rooms and Shelters: Protecting People From Terrorist Attacks: Protecting People From Terrorist Attacks (Paperback)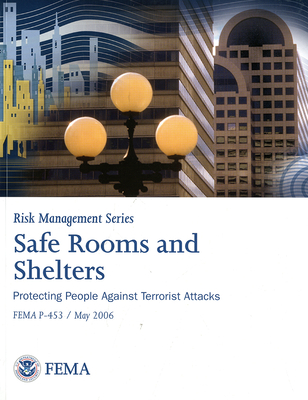 $25.80
Email or call for price
Description
---
This manual presents information about the design and construction of shelters in the work place, home, or community building that will provide protection in response to manmade hazards. Because the security needs and types of construction vary greatly, users may select the methods and measures that best meet their individual situations. The use of experts to apply the methodologies contained in this document is encouraged.
This document will discuss the design of shelters to protect against CBRE attacks. Fallout shelters that are designed to protect against the effects of a nuclear weapon attack are not addressed in this publication. The risks of death or injury from CBRE attacks are not evenly distributed throughout the United States. This manual will guide the reader through the process of designing a shelter to protect against CBRE attacks. The intent of this manual is not to mandate the construction of shelters for CBRE events, but rather to provide design guidance for persons who wish to design and build such shelters.
The design and planning necessary for extremely high-capacity shelters that may be required for large, public use venues such as stadiums or amphitheaters are beyond the scope of this design manual. An owner or operator of such a venue may be guided by concepts presented in this document, but detailed guidance concerning extremely high-capacity shelters is not provided. The design of such shelters requires attention to issues such as egress and life safety for a number of people that are orders of magnitude greater than those proposed for a shelter designed in accordance with the guidance provided herein.
This manual includes the following chapters and appendices:
Chapter 1
presents design considerations, potential threats, the levels of protection, shelter types, siting, occupancy duration, and human factors criteria for shelters (e.g., square footage per shelter occupant, proper ventilation, distance/travel time and accessibility, special needs, lighting, emergency power, route marking and wayfinding, signage, evacuation considerations, and key operations zones).
Chapter 2
discusses the structural design criteria for blast and impact resistance, as well as shelters and model building types. Structural systems and building envelope elements for shelters are analyzed and protective design measures for the defined building types are provided.
Chapter 3
describes how to add chemical, biological, and radiological (CBR) protection capability to a shelter or a safe room. It also discusses air filtration, safe room criteria, design requirements, operations and maintenance, commissioning, and training required to operate a shelter.
Chapter 4
discusses emergency management considerations, Federal CBRE response teams, emergency response and mass care, community shelter operations plans, descriptions of the responsibilities of the shelter team members, shelter equipment and supplies, maintenance plans, and commercial building shelter operation plans. Key equipment considerations and training are also discussed.
Appendix A
presents the references used in the preparation of this document.
Appendix B
contains a list of acronyms and abbreviations that appear in this document.

Audience
This manual can provide guidance for engineers, architects, building officials, building inspectors, and property owners to design shelters and safe rooms in buildings.