How to Feed a Dictator: Saddam Hussein, Idi Amin, Enver Hoxha, Fidel Castro, and Pol Pot Through the Eyes of Their Cooks (Paperback)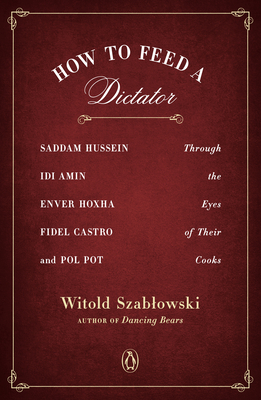 $17.00

Usually Ships in 3-5 Days
Description
---
"Amazing stories . . . Intimate portraits of how [these five ruthless leaders] were at home and at the table." —Lulu Garcia-Navarro, NPR's Weekend Edition Sunday

Anthony Bourdain meets Kapuściński in this chilling look from within the kitchen at the appetites of five of the twentieth century's most infamous dictators, by the acclaimed author of Dancing Bears.

What was Pol Pot eating while two million Cambodians were dying of hunger? Did Idi Amin really eat human flesh? And why was Fidel Castro obsessed with one particular cow?
 
Traveling across four continents, from the ruins of Iraq to the savannahs of Kenya, Witold Szabłowski tracked down the personal chefs of five dictators known for the oppression and massacre of their own citizens—Iraq's Saddam Hussein, Uganda's Idi Amin, Albania's Enver Hoxha, Cuba's Fidel Castro, and Cambodia's Pol Pot—and listened to their stories over sweet-and-sour soup, goat-meat pilaf, bottles of rum, and games of gin rummy. Dishy, deliciously readable, and dead serious, How to Feed a Dictator provides a knife's-edge view of life under tyranny.
About the Author
---
Witold Szabłowski is an award-winning Polish journalist and the author of Dancing Bears: True Stories of People Nostalgic for Life Under Tyranny. When he was twenty-four he had a stint as a chef in Copenhagen, and at age twenty-five he became the youngest reporter at one of Poland's largest daily newspapers, where he covered international stories in countries including Cuba, South Africa, and Iceland, and won awards for his features on the problem of illegal immigrants flocking to the EU and the 1943 massacre of Poles in Ukraine. His book about Turkey, The Assassin from Apricot City, won two awards and was nominated for Poland's most prestigious literary prize. Szabłowski lives in Warsaw.
Praise For…
---
Winner, Gourmand World Cookbook Awards

"A very accomplished piece of historical journalism and brilliant story-telling . . . Just an outright pleasure to read." —Bill Buford, bestselling author of Heat and Dirt

"Fascinating . . . Moving . . . Reveal[s] the complicated web of feelings (and morals) involved in cooking for a despot . . . A chilling read." —The Washington Post

"Lively . . . Szabłowski . . . devoted three years to tracking down and personally interviewing the cooks . . . [and] provide[s] historical context for the worlds in which these tyrants operated and makes sure we remember how evil they were, even as we read about their fondness for grilled cheese with honey or refusal to eat dried elephant meat." —The Wall Street Journal

"I loved the book because it hit my personal sweet spot—food and history. . . . I kept turning the pages . . . with the same gape-mouthed shock I got from reading The Orphan Master's Son." —Joel Stein, Air Mail

"Anecdotal and easy-going . . . Throughout, the chefs are rendered as compelling and complex characters. Szabłowski's skill is to hang back from judgment . . . Like his compatriot, the literary non-fictioneer Kapuściński . . . Szabłowski lets his subjects speak for themselves . . . [offering] behind-the-scenes glimpses of hypocrisies, capriciousness and bullying . . . [and] posing . . . universal questions about collusion and responsibility. . . . Szabłowski is a limpid and gently brilliant storyteller." —Financial Times

"A fascinating journey through four continents . . . Szabłowski paints a gripping picture of the autocracy seen through the eyes of tyrants' personal chefs. It's delicious and devastating at the same time." —Karolina Wiercigroch, quoted in National Geographic

"A piquant food travelogue with dimensions that are both comic and Faulknerian, with court intrigue and betrayal so sudden that the book may as well have been titled In the Kitchen With Machiavelli . . . [The] moral ambiguity . . . is both the fascination and the horror of the book. . . . Chilling." —Bloomberg

"Fascinating." —Minneapolis Star Tribune

"Riveting, and utterly convincing . . . Viscerally transports us to an alien time, an alien place . . . The dictators are reanimated, transformed from creatures of mythology back into flesh and blood. . . . Exceptionally juicy." —The Sunday Telegraph

"Winning . . . Szabłowski's dogged pursuit across continents was rewarded. . . . This book tells all that we know about the power of good suppers, whoever they are fed to." —The Spectator

"Fascinating . . . A beguiling mix of the dark and the comic, combining fancy cuisine with torture and genocide. Its tone is reminiscent of Armando Iannucci's recent movie The Death of Stalin, in which the absurd and the monstrous, the funny and the horrifying are so entwined as to be indivisible." —The Mail on Sunday

"A very special book . . . We need a new word to describe the uncomfortable hunger one feels reading this book." —Maclean's

"These are the tales from Hell's Kitchen—the real kitchens, in presidential palaces and retreats, where food was prepared for men so evil they seemed to be the Devil in human form." —Al Bawaba

"Food and history buffs will find these firsthand accounts irresistible. . . . Throughout, Szabłowski entertains with disturbing rumors, such as [Idi] Amin eating human flesh (whatever the case, his chef never cooked it for him), and strange obsessions ([Fidel] Castro preferred the milk from a single cow named Ubre Blanca, or "white udder"). . . . These are the kinds of stories only a chef could know." —Publishers Weekly

"Its originality and topicality in a world increasingly governed by political strongmen [are] intriguing. . . . The author shares intimate historical insights into the meaning of life under dictatorship." —Kirkus Reviews

"Fascinating . . . A new perspective on horrible people . . . Interesting anecdotal revelations . . . The chefs' biographical narratives . . . present variations on the themes of rare opportunity, terrifying pressure, and lives permanently warped by proximity to power and cruelty." —Booklist

"A great book . . . Really a fascinating idea. It's kind of like Chicken Soup for the Soul, except with vicious, bloodthirsty dictators." —Stu Does America

"A quick read, but tense. I was surprised at how fast my pulse was going when reading." —Victoria Irwin, FangirlNation
 
"An interesting combination of politics and food . . . It hit the spot." —Reading Envy

"A very profound meditation on the relationship between food and power." ―Larry Wolff, New York University
 
"A startlingly intimate portrait from the palace kitchen . . . It blew me away." ―Krishnendu Ray, New York University

"Unique and startling—an amazing book. Here's Abu Ali, describing the fish soup with tomatoes, almonds, and apricots that was Saddam Hussein's favorite. And here's Otonde Odera, reminiscing about the steak and kidney pie that won him a huge pay raise from Idi Amin. These accounts of killers at table, delivered in the cooks' own words and placed in historical context by Szabłowski, are all the more hair-raising for Szabłowski's matter-of-fact prose. He isn't writing about monsters, but monstrous human beings—and that's the scary part." —Laura Shapiro, author of What She Ate and Julia Child: A Life
Coverage from NPR