Ceremony: (Penguin Orange Collection) (Paperback)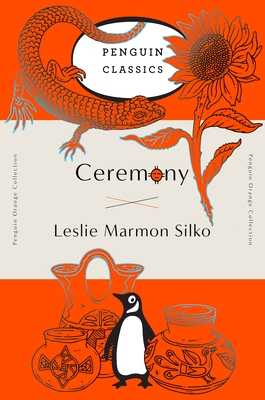 $17.00

Usually Ships in 3-5 Days
Description
---
Part of the Penguin Orange Collection, a limited-run series of twelve influential and beloved American classics in a bold series design offering a modern take on the iconic Penguin paperback

Winner of the 2016 AIGA + Design Observer 50 Books | 50 Covers competition

For the seventieth anniversary of Penguin Classics, the Penguin Orange Collection celebrates the heritage of Penguin's iconic book design with twelve influential American literary classics representing the breadth and diversity of the Penguin Classics library. These collectible editions are dressed in the iconic orange and white tri-band cover design, first created in 1935, while french flaps, high-quality paper, and striking cover illustrations provide the cutting-edge design treatment that is the signature of Penguin Classics Deluxe Editions today.

Ceremony

Almost forty years since its original publication, Ceremony remains one of the most profound and moving works of Native American literature—a novel that is itself a ceremony of healing. Masterfully written, filled with the somber majesty of Pueblo myth, Ceremony is a work of enduring power.
About the Author
---
Leslie Marmon Silko is the author of ten books of fiction, poetry, and memoir, including Ceremony, Storyteller, Almanac for the Dead, and The Turquoise Ledge. She received a "Genius Grant" from the MacArthur Foundation in 1981 and the Native Writers' Circle of the Americas Lifetime Achievement Award in 1994. The singular achievement of Ceremony, published in 1977, secured her a place among the first rank of Native American novelists.
Praise For…
---
Praise for Ceremony:

"An exceptional novel—a cause for celebration." —The Washington Post Book World

"Her assurance, her gravity, her flexibility are all wonderful gifts." —The New York Review of Books

"The novel is very deliberately a ceremony in itself—demanding but confident and beautifully written." —The Boston Globe

"Ceremony is the greatest novel in Native American literature. It is one of the greatest novels of any time and place. I have read this book so many times that I probably have it memorized. I teach it and I learn from it and I am continually in awe of its power, beauty, rage, vision, and violence." —Sherman Alexie

"Without question Leslie Marmon Silko is the most accomplished Native American writer of her generation." —The New York Times Book Review