The Prophecies: A Dual-Language Edition with Parallel Text (Paperback)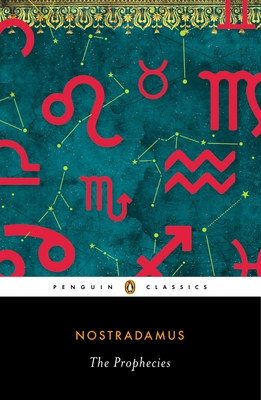 $20.00
Email or call for price
Description
---
The first major literary presentation of Nostradamus's Prophecies, newly translated and edited by prizewinning scholars
The mysterious quatrains of the sixteenth-century French astrologer Nostradamus have long proved captivating for their predictions. Nostradamus has been credited with anticipating the Great Fire of London, the rise of Adolf Hitler, and the September 11 terrorist attacks. Today, as the world grapples with financial meltdowns, global terrorism, and environmental disasters—as well as the Mayan prediction of the apocalypse on December 21, 2012—his prophecies of doom have assumed heightened relevance.
How has The Prophecies outlasted most books from the Renaissance? This edition considers its legacy in terms of the poetics of the quatrains, published here in a brilliant new translation and with introductory material and notes mapping the cultural, political, and historical forces that resonate throughout Nostradamus's epic, giving it its visionary power.

For more than seventy years, Penguin has been the leading publisher of classic literature in the English-speaking world. With more than 1,700 titles, Penguin Classics represents a global bookshelf of the best works throughout history and across genres and disciplines. Readers trust the series to provide authoritative texts enhanced by introductions and notes by distinguished scholars and contemporary authors, as well as up-to-date translations by award-winning translators.

About the Author
---
Nostradamus (1503–1566) was a French doctor, astrologer, and seer believed to have predicted major world events.

Richard Sieburth (translator) is an award-winning translator of works by Henri Michaux, Michel Leiris, George Büchner, Walter Benjamin, and Friedrich Hölderlin. His translation for Penguin Classics of Gerard de Nerval's Selected Writings won the PEN/Book-of-the-Month-Club Translation Prize. Sieburth teaches French and comparative literature at New York University.

Stéphane Gerson (introducer) is an award-winning historian of modern France and the author of Nostradamus: How an Obscure Renaissance Astrologer Became the Modern Prophet of Doom. He teaches French history at New York University.
Praise For…
---
"Freshly translated [and] stamped with the approval of the editors of the venerable Penguin Classics series . . . this new dual-language edition of The Prophecies, translated by the excellent Richard Sieburth, makes a case for Nostradamus as a poet of sweep and impact. . . . Never mind the Weather Channel. If the Penguin Classics people are telling me to be afraid, then I am prepared to be very afraid indeed." —Dwight Garner, The New York Times

"A vigorous, wry, alert new translation . . . A richer, more wrangling read than any other English translator has managed or even attempted . . . [It] offers English readers the experience of reading the [prophecies] steadily and sequentially, rather than piecemeal, and with the original French on facing pages, making it possible to read the prophecies as acts of writing rather than riddles. . . . In keeping faith with the strangeness of these verses Sieburth has succeeded brilliantly in making them at last readable, in all their weird, cruel beauty, their jagged brilliance and spasmodic dash." —London Review of Books

"Everybody knows about Nostradamus, but few have read him. Richard Sieburth's glittering translation rescues one of the world's most arcane texts from the realm of hearsay, and renders its strange poetry palpable and moving." —John Ashbery, Pulitzer Prize–winning poet

"I devoured this book in one ecstatic sitting and am already eager to do so again. Nostradamus's Prophecies is an indispensable classic—enigmatic, captivating, and uncannily prescient. In Richard Sieburth's elegant translation, it is also hauntingly beautiful." —Caroline Weber, author of Queen of Fashion: What Marie Antoinette Wore to the Revolution and Terror and Its Discontents: Suspect Words in Revolutionary France

"Is Nostradamus a poet? The form in which he wrote—dark astrological visions of world events—is not one of poetry's frequent modes, though he anticipates the resounding malarkey of Yeats. But it takes a poet to create such haunting, resonant, and mysterious quatrains." —Richard Wilbur, former U.S. poet laureate and winner of the Pulitzer Prize and the National Book Award

"Astrologically speaking, no prophecies are closer to what the Dada and Surrealist spirit holds sacred than the Prophecies of Nostradamus, whose mysterious enigmas are here rendered sparkling, all these centuries later."—Mary Ann Caws, Distinguished Professor of Comparative Literature, English, and French, the Graduate Center, City University of New York

"Richard Sieburth's translation of the Prophecies of Nostradamus proves once again that Sieburth ranks first and foremost among the translators of today. Sieburth's artful work demonstrates a keen understanding of Nostradamus that few possess. Accompanied by a masterly introduction by Stéphane Gerson, this translation is one for the ages." —Lawrence D. Kritzman, John D. Willard Professor of French and Comparative Literature, Dartmouth College

"The avant-garde occult classic The Prophecies has found its ideal translator in Richard Sieburth, and Sieburth and Stéphane Gerson have provided superb introductions and notes. . . . The Prophecies is riddled with riot, predicting a panoply of possible futures while all the time registering the trauma of its historical moment and, against all odds, our own." —Charles Bernstein, author of All the Whiskey in Heaven: Selected Poems