Book of Blues (Penguin Poets) (Paperback)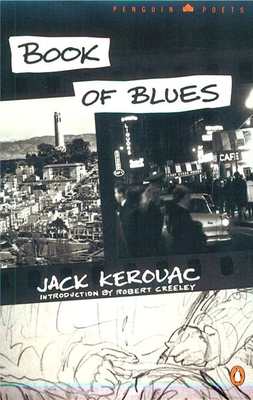 Description
---
Best known for his "Legend of Duluoz" novels, including
On the Road
and
The Dharma Bums
, Jack Kerouac is also an important poet. In these eight extended poems, Kerouac writes from the heart of experience in the music of language, employing the same instrumental blues form that he used to fullest effect in
Mexico City Blues
, his largely unheralded classic of postmodern literature. Edited by Kerouac himself,
Book of Blues
is an exuberant foray into language and consciousness, rich with imagery, propelled by rythm, and based in a reverent attentiveness to the moment.
"In my system, the form of blues choruses is limited by the small page of the breastpocket notebook in which they are written, like the form of a set number of bars in a jazz blues chorus, and so sometimes the word-meaning can carry from one chorus into another, or not, just like the phrase-meaning can carry harmonically from one chorus to the other, or not, in jazz, so that, in these blues as in jazz, the form is determined by time, and by the musicians spontaneous phrasing & harmonizing with the beat of time as it waves & waves on by in measured choruses." —Jack Kerouac
About the Author
---
Jack Kerouac(1922-1969), the central figure of the Beat Generation, was born in Lowell, Massachusetts, in 1922 and died in St. Petersburg, Florida, in 1969. Among his many novels are On the Road, The Dharma Bums, Big Sur, and Visions of Cody.