A People's Tragedy: A History of the Russian Revolution (Paperback)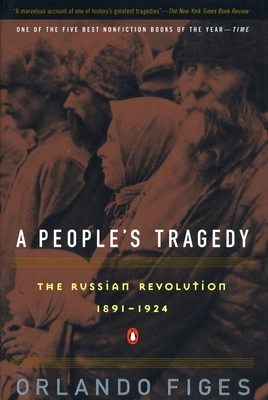 $35.00

Usually Ships in 3-5 Days
Description
---
On the brink of the 100th anniversary of the Russian Revolution, read the most vivid, moving, and comprehensive history of the events that changed the world

It is history on an epic yet human scale. Vast in scope, exhaustive in original research, written with passion, narrative skill, and human sympathy, A People's Tragedy is a profound account of the Russian Revolution for a new generation. Many consider the Russian Revolution to be the most significant event of the twentieth century. Distinguished scholar Orlando Figes presents a panorama of Russian society on the eve of that revolution, and then narrates the story of how these social forces were violently erased. Within the broad stokes of war and revolution are miniature histories of individuals, in which Figes follows the main players' fortunes as they saw their hopes die and their world crash into ruins. Unlike previous accounts that trace the origins of the revolution to overreaching political forces and ideals, Figes argues that the failure of democracy in 1917 was deeply rooted in Russian culture and social history and that what had started as a people's revolution contained the seeds of its degeneration into violence and dictatorship. A People's Tragedy is a masterful and original synthesis by a mature scholar, presented in a compelling and accessibly human narrative.
About the Author
---
Orlando Figes is the prizewinning author of A People's Tragedy and Natasha's Dance. He is a regular contributor to The New York Times, The Washington Post, and The New York Review of Books.
Praise For…
---
"Few historians have the courage to attack great subjects; fewer have the grasp to succeed. This is a book that lets the reader look into the face of one of the major social upheavels of history. . . .
A People's Tragedy
will do more to help us undersand the Russian Revolution than any other book I know."
—Eric Hobsbawm,
The London Review of Books
"I doubt there is anyone in the world who knows the revolution as well as Figes does."
—Norman Stone, The Sunday Times (London)
"An engagingly written and well-researched book. . . . Will stand for some time as a standard of historical scholarship."
—Steven Merritt Miner, The New York Times Book Review
"Huge in scope, brilliant in vignette, dark and implacable in theme, it is a modern masterpiece."
—Andrew Marr, The Independent