Women, Food, and Hormones: A 4-Week Plan to Achieve Hormonal Balance, Lose Weight, and Feel Like Yourself Again (Paperback)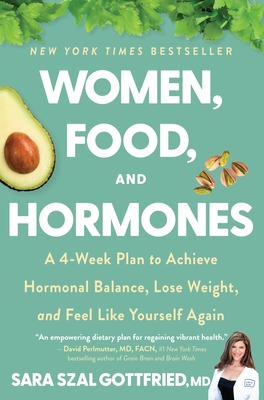 $18.99

Usually Ships in 3-5 Days
Description
---
New York Times bestseller
Bestselling author Dr. Sara Gottfried shares a new, female-friendly keto diet that addresses women's unique hormonal needs, so readers can shed pounds and maintain the loss more easily.

It's no surprise that most diet plans don't work for women—most health studies are based on men instead of women, so women have no choice but to follow plans that were created by and for men. The trouble is: women's bodies don't work the same way. Popular programs can actually make it harder for women to lose weight, because they can wreak havoc on a woman's complex and delicate hormonal system. 
New York Times bestselling author Dr. Sara Gottfried has spent her career demystifying hormones and helping patients improve their health with personalized medicine. In Women, Food, and Hormones, she presents the Gottfried Protocol, a science-based, road-tested plan designed to reset and balance your hormones and accelerate fat loss. Featuring a female-friendly fasting protocol and ketogenic diet that's tailor-made for women, the Gottfried Protocol is designed to:
Work with, not against, women's hormones—unlike other keto plans.
Improve detoxification and blood sugar levels while decreasing stress, hunger, and cravings. 
Target belly fat and reduce inflammation.
Increase levels of key anti-aging hormones.
Complete with essential troubleshooting tips and more than 50 delicious and filling recipes, Women, Food, and Hormones is your all-in-one-guide to hormonal balance and a healthy new you. 
About the Author
---
SARA GOTTFRIED, MD, is a hormone expert, a Harvard-educated physician-scientist, and a clinical assistant professor in the department of integrative medicine and nutritional sciences at Sidney Kimmel Medical College, Thomas Jefferson University. She is the New York Times best-selling author of three previous books, including The Hormone Cure. She lives in Moraga, California.
Praise For…
---
"An empowering dietary plan for regaining vibrant health."  — David Perlmutter, MD, FACN, #1 New York Times bestselling author of Grain Brain and Brain Wash 
"Readers looking for a holistic approach to rectifying hormonal imbalances will find this a well-marked road map."  — Publishers Weekly
"Dr. Sara Gottfried knows that the majority of research and dietary recommendations are based on studies performed on men, and she understands how to make essential adjustments to those recommendations to protect a woman's hormonal balance and vitality."  — Kelly LeVeque, author of Body Love and Body Love Every Day
"In a world where women's hormones are often misunderstood or ignored, Sara gets down to the basics and provides step-by-step instructions while teaching each reader how to personalize their own health journey."  — Dr. Will Cole, New York Times bestselling author of Intuitive Fasting 
"A must-have for women who want a science-backed plan to get their health back on track."  — Nicole Avena, PhD, FACN, assistant professor of neuroscience at Mount Sinai School of Medicine, author of What to Eat When You Want to Get Pregnant