Good Inside: A Guide to Becoming the Parent You Want to Be (Hardcover)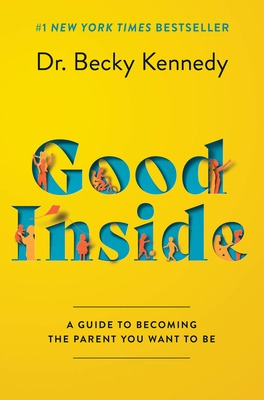 $31.00

Usually Ships in 3-5 Days
Description
---
INSTANT #1 NEW YORK TIMES BESTSELLER
An Instant Wall Street Journal, USA Today, and Indie Bestseller
"This book is for any parent who has ever struggled under the substantial weight of caregiving—which is to say, all of us. Good Inside is not only a wise and practical guide to raising resilient, emotionally healthy kids, it's also a supportive resource for overwhelmed parents who need more compassion and less stress. Dr. Becky is the smart, thoughtful, in-the-trenches parenting expert we've been waiting for!"—Eve Rodsky, New York Times bestselling author of Fair Play and Find Your Unicorn Space
Dr. Becky Kennedy, wildly popular parenting expert and creator of @drbeckyatgoodinside, shares her groundbreaking approach to raising kids and offers practical strategies for parenting in a way that feels good.
Over the past several years, Dr. Becky Kennedy—known to her followers as "Dr. Becky"—has been sparking a parenting revolution. Millions of parents, tired of following advice that either doesn't work or simply doesn't feel good, have embraced Dr. Becky's empowering and effective approach, a model that prioritizes connecting with our kids over correcting them.
Parents have long been sold a model of childrearing that simply doesn't work. From reward charts to time outs, many popular parenting approaches are based on shaping behavior, not raising humans. These techniques don't build the skills kids need for life, or account for their complex emotional needs. Add to that parents' complicated relationships with their own upbringings, and it's easy to see why so many caretakers feel lost, burned out, and worried they're failing their kids. In Good Inside, Dr. Becky shares her parenting philosophy, complete with actionable strategies, that will help parents move from uncertainty and self-blame to confidence and sturdy leadership.
Offering perspective-shifting parenting principles and troubleshooting for specific scenarios—including sibling rivalry, separation anxiety, tantrums, and more—Good Inside is a comprehensive resource for a generation of parents looking for a new way to raise their kids while still setting them up for a lifetime of self-regulation, confidence, and resilience.
About the Author
---
Dr. Becky Kennedy is a clinical psychologist and mom of three, recently named "The Millennial Parenting Whisperer" by TIME Magazine, who's rethinking the way we raise our children. She specializes in thinking deeply about what's happening for kids and translating these ideas into simple, actionable strategies for parents to use in their homes. Dr. Becky's goal is to empower parents to feel sturdier and more equipped to manage the challenges of parenting.
Praise For…
---
"Dr. Becky is profoundly changing the way we parent our kids and the way we parent ourselves. Her innovative work shows parents how to challenge inherited beliefs and behaviors and shift the paradigm of how we understand family dynamics. Her work is proof that we can be the parents we want to be--and that we are all good inside."  — Gabby Bernstein, #1 New York Times bestselling author of The Universe Has Your Back

"Dr. Becky teaches parents that the foundation of child-rearing is building a solid relationship with their child and offering themselves grace along the way. Captivating and timely, Good Inside is a book parents can turn to at every stage of development, from infancy to adulthood, to continue building connection with their kids." — Nedra Tawwab, New York Times bestselling author of Set Boundaries, Find Peace
"Parenting is the most important job we'll ever have and the one we get the least training for, so we tend to follow what our parents did—which, often, wasn't great. Emphasizing connection first, Dr. Becky offers a new way to parent, sharing clear advice and examples for setting boundaries with love and compassion. Good Inside is the book I wish I'd had when I was raising my kids; and I'm so glad they'll have it as they raise theirs." — Richard Schwartz, PhD, founder of Internal Family Systems and author of No Bad Parts

"At a time when parents are sorely lacking in stamina and resources, Dr. Becky's wise words and deep insights offer a treasure trove of practical strategies and essential support. Good Inside is the book we all need right now, and the book that will continue to guide us for years to come." — Reshma Saujani, Founder of Girls Who Code and author of Pay Up
"Warning: reading this book might make you a better parent. Whether you're struggling to get your toddler to calm down or your teenager to open up, Becky Kennedy is a fountain of wisdom. She strikes the ideal balance between affirming your best instincts and challenging you to rethink your worst reactions." — Adam Grant, #1 New York Times bestselling author of Think Again and host of the TED podcast WorkLife
"Dr. Becky makes a solid case that self-development and child development go hand in hand, and helps readers accomplish both. Flush with useful ideas...parents will find this [book] well worth their time."  — Publishers Weekly