The First Cat in Space Ate Pizza (Hardcover)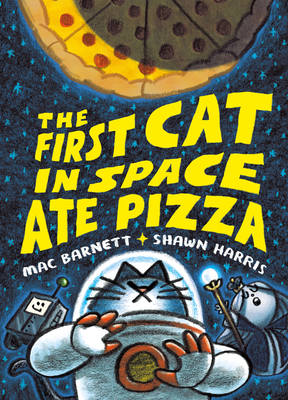 $16.99

Usually Ships in 3-5 Days
Other Books in Series
This is book number 1 in the The First Cat in Space series.
Description
---
"Ridiculously fun and brilliantly illustrated." —Dav Pilkey, creator of Dog Man and Captain Underpants
As seen on The TODAY Show! New York Times bestselling Mac Barnett and Caldecott Honor award-winning illustrator Shawn Harris turn their massively popular The First Cat in Space Ate Pizza live cartoon into an action-packed and hysterical graphic novel series—perfect for fans of Dav Pilkey, Raina Telgemeier, and Jeff Kinney. A Kids' Indie Next List Pick, an Indie Bestseller, and a Junior Library Guild Selection!
Something terrible is happening in the skies! Rats are eating the MOON!
There's only ONE hero for the job, a bold and fearsome beast bioengineered in a secret lab to be the moon's savior and Earth's last hope! And that hero is . . . a cat. A cat who will be blasted into space!
Accompanied by the imperious Moon Queen and LOZ 4000, a toenail clipping robot, the First Cat in Space journeys across a fantastic lunar landscape in a quest to save the world. Will these unlikely heroes save the moon in time? Can a toenail-clipping robot find its purpose in the vast universe? And will the First Cat in Space ever eat some pizza? 
About the Author
---
Mac Barnett is a New York Times bestselling author whose books have been translated into more than thirty languages. His picture books include two Caldecott Honor–winning collaborations with Jon Klassen: Sam & Dave Dig a Hole and Extra Yarn. Among his other popular books are I Love You Like a Pig, illustrated by Greg Pizzoli, and The Magic Word, illustrated by Elise Parsley. He lives in Oakland, California. You can visit him online at macbarnett.com.
Shawn Harris's first illustrated book, Her Right Foot by Dave Eggers, received seven starred reviews, was an Orbis Pictus Award Honor Book, an ALA Notable, and a PW Best Book of the Year. His other picture books include Eggers's What Can a Citizen Do, which was a Time Magazine Best Children's Book, Everyone's Awake by Colin Meloy, A Polar Bear in the Snow by Mac Barnett, and his own author-illustrated works Have You Ever Seen a Flower? and Doing Business. Harris also occasionally moonlights as singer/songwriter of the popular Oakland, California, band the Matches, whose early 2000s album art sparked his illustration career.  
Praise For…
---
"In full, vivid color, the loose cartoon style exudes an infectious glee, flawlessly matching Barnett's freewheeling, absurdist humor and plotting." — Publishers Weekly (starred review)
"Readers looking for the outer space high jinks and gentle humor of Brockington's Catstronauts and the imaginative and fantastical worldbuilding of Andrews's This Was Our Pact need look no further than this laugh-out-loud tale of the first cat in space." — School Library Journal (starred review)
"The surprisingly earnest themes of friendship and individual purpose combined with the absurd humor should resonate with this audience of readers." — Horn Book Magazine
"A hilarious graphic novel."  — New York Times
"Ridiculously fun and brilliantly illustrated."  — Dav Pilkey, creator of Dog Man and Captain Underpants
"Epic lunacy." — Kirkus Reviews
"Obvious work of creative joy. A definite winner in the age of Dog Man." — Booklist
"Barnett is cruising comfortably in his usual lane of quirky humor, and Harris matches the absurdity with cleverly composed illustrations that balance visual humor with narrative necessity. Kids who have graduated from Binky the Cat will be delighted to join another furball on intergalactic adventures." — Bulletin of the Center for Children's Books
Praise for A Polar Bear in the Snow: ★ "Mesmerizing." — Publishers Weekly (starred review)
★ "A winning must." — Kirkus Reviews (starred review)
★ "Perfect." — School Library Journal (starred review)
★ "Succinct... yet sophisticated." — Booklist (starred review)
"An understated, reflective, and loving portrayal that also serves as a celebration of wonder and wandering."  — Horn Book Magazine
"This is a frosty little whimsy with enough of an edge, between the hint at reality for the seals and the bear's snarl at a human interloper, to be interesting, and Barnett deftly wields a tidy, P. D. Eastman-esque structure that immediately attracts listeners."  — Bulletin of the Center for Children's Books
Praise for Top Secret Smackdown (Mac B., Kid Spy #3): "Exciting action sneakily infused with points about the relationship between reality and story, delivered by a narrator who can claim with literal truth that he saved the day "on porpoise."  — Kirkus Reviews
"This short chapter book, with a familiar graphic style from previous volumes, does not disappoint. Highly recommended for fans of the series, this title features more of the wacky humor they have come to expect."  — School Library Journal
Praise for The Impossible Crime (Mac B., Kid Spy #2): "Barnett opens his casebook again-this time to solve a classic locked-room mystery...Almost every page contains Lowery's illustrations, loosely drawn and garishly colored in green and orange, which give the whole affair a zany feel that is much enhanced by the narrative with its running gags. Kudos to a pint-size Poirot, pre-Mustache!" — Booklist
"Barnett's signature dry wit and snappy back-and-forths, particularly between the ingenuously sincere Mac and the standoffish Queen, keep the story steadily moving forward; a convoluted historical account of Colonel Blood's attempted robbery...Lowery's cartoony spot art, in black, green, and orange, provides additional historical and cultural information and frequently supports the narrative."  — The Horn Book
"Barnett and Lowery team up again in this second outing of international espionage mystery with royal overtones... this is a nifty mystery for young readers and a worthy sequel to the first."  — Kirkus Reviews
Praise for Mac Undercover (Mac B., Kid Spy #1): * "Barnett and Lowery bring the funny to the serious art of espionage in a perfect interplay of text and illustration...Barnett interweaves tidbits of global history fit for trivia lovers, while Lowery's comic-style images play a key role in the humor...Told with a sense of nostalgia for 1980s history and pop culture, the silliness and originality of this book will hook young readers."  — School Library Journal (starred review)
"Barnett takes his readers on a fun-filled ride...Barnett's tone throughout the story is humorous, lighthearted, and a little glib, and the over-the-top story is sure to appeal to many readers...an enjoyable romp that will leave readers salivating for the sequel."  — Kirkus Reviews
"[Barnett's] riotous series debut as an adult recalling a 1980s childhood caper...goofy, two-color pictures by Lowery (the Doodle Adventure series) ramp up the silliness of this adventure...which should snare even the most hesitant readers."  — Publishers Weekly
"Barnett's knack for both quirky situational humor and heartfelt sentiment work in tandem to create a balanced-while still outrageous-early-chapter-book caper. Lowery's frequent cartoony black, yellow, and blue spot illustrations are integral to the narrative, providing clues to eagle-eyed readers and enhancing the humor."  — The Horn Book
"Barnett's series falls squarely in line with works from Jon Scieszka's and Dav Pilkey's oeuvres, offering kids another solid choice for what to read next."  — Bulletin of the Center for Children's Books
"Funny as a crumpet. (But truly, secretly a hundred times smarter.)" — Jon Scieszka, author of Caldecott Honor The Stinky Cheese Man and Other Fairly Stupid Tales and the New York Times bestselling series Frank Einstein
"With a perfectly absurd premise, dialogue that demands outlandish accents, and a plot that interweaves global history and complete silliness, Barnett royally nails it."  — Abby Hanlon, author of the Dory Fantasmagory series