Bart Simpson Breaks Out (Simpsons Comics) (Paperback)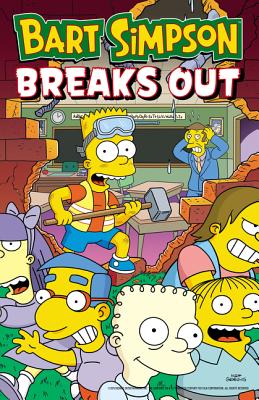 Description
---
Escape brain-numbing boredom with Bart Simpson!

Bart and his pals are holding nothing back! First, the sons of The Legitimate Businessman's Social Club (aka the Mafia) take over Springfield Elementary, and they have their sights set on recruiting Bart as their newest member. And when Lisa applies her study habits to the art of pranking, she gives Bart a healthy dose of competition for the title of "Class Clown." Then, Bartman tangles with an eight-baby-wielding villain named Dr. Octuplets. Also, Martin Prince makes a move up the social ladder, Homer offers Maggie the moon, and Principal Skinner resorts to desperate measures to contain the force that is . . . Bart Simpson!
About the Author
---
Matt Groening, the creator and executive producer of the Emmy® Award-winning series The Simpsons, as well as creator of the cartoon strip "Life in Hell" and the animated FOX television series Futurama, is the man responsible for bringing animation back to primetime and creating an immortal nuclear family. In addition, Groening formed Bongo Comics Group in 1993 and currently serves as publisher of The Simpsons Library of Wisdom, Simpsons Episode Guides, Simpsons Comics, Bart Simpson Comics, Radioactive Man Comics, Simpsons Comics Treasure Trove, the annual Bart Simpson's Treehouse of Horror, Futurama Comics and more than 36 comic compilations, as well as many instant classics including Bart Simpsons Guide to Life, The Simpsons Handbook and The Simpsons Uncensored Family Album.