The Living: A Novel (Paperback)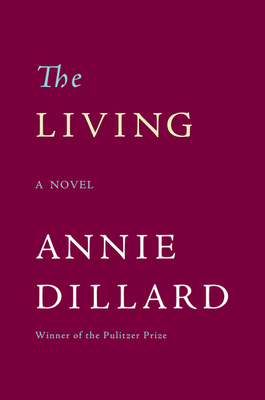 $17.84

Usually Ships in 3-5 Days
Description
---
"Remarkable. . . . A deftly woven narrative saturated with violence, hardship, and triumph. Readers will be richly rewarded, for by the end of this deeply felt novel it is hard to let the frontier town and its people go."  — San Francisco Chronicle
This New York Times bestselling novel by Pulitzer Prize-winning author Annie Dillard is a mesmerizing evocation of pioneer life navigated by European settlers and Lummi natives in the Pacific Northwest during the last decades of the 19th century.
The Living is a tale full of gold minors, friendly railroad speculators, doe-eyed sweethearts, shifty card players, and 19th century adventures that will stay with you long after you close the book.

About the Author
---
Annie Dillard is the Pulitzer Prize-winning author of Pilgrim at Tinker Creek, An American Childhood, The Writing Life, The Living and The Maytrees. She is a member of the Academy of Arts and Letters and has received fellowship grants from the John Simon Guggenheim Foundation and the National Endowment for the Arts.
Praise For…
---
"An august celebration of human frenzy and endurance and...an invigorating, intricate first novel. Annie Dillard shows a tremendous gift for writing in a genuinely epic mode." — New York Times Book Review
"Remarkable. . . . A pleasure to read. . . . A deftly woven narrative saturated with violence, hardship, and triumph. Readers will be richly rewarded, for by the end of this deeply felt novel it is hard to let the frontier town and its people go." — San Francisco Chronicle
"The kind of book a reader sinks into completely. . . . The characters are so compelling, the setting so detailed, so convincing, so absolutely complete. . . . The Living is an extraordinary accomplishment, one of those rare occasions when the written word results through the magic and talent of the author in the creation of the whole world." — Boston Globe
"The Living is an impressive piece of fiction and a riveting hunk of history. . . . The many readers who have been drawn in the past to Dillard's work for its elegant and muscular use of language won't be disappointed in these pages. . . . She has given herself a landscape large enough to challenge her talents." — Los Angeles Times
"Above all, a novel about the precious, wondrous, solitary, terrifying, utterly common condition of human life." — Washington Post Book World
"A panoramic, hypnotic novel. . . . A novel of character that blends history, social change, and individual dreams in a sophisticated, seamless prose." — Seattle Times